The benefits of maintaining your dirt track with Track Tech Concepts' Cracker-Blade System include:
Assured multi-lane racing conditions for every event
A smoother, more reliable racing surface
Virtual elimination of track related dust
Significantly reduced track preparation cost
70-80% Less labor cost
Lower fuel expense
Reduced watering
Less equipment wear & tear
Additionally, using the Cracker Blade System:
- Total weekly maintenance on the 3/8-mile test track was reduced to JUST 5 to 7 HOURS on a race day

- The track is leveled, eliminating windrows and shingling

- Typical water usage during a bone-dry August was reduced to 9,000 - 12,000 gallons, which is about 1/3 of the amount used prior to working the track with the Cracker-Blade.

- Caution! Over watering will give you a soupy mess. You only want to hydrate 6 inches deep. We suggest start with ½ your normal amount, then adjust accordingly.

- You'll know your track was cracked correctly when the water being applied instantaneously absorbed.

- Spring 2006, EIGHTY-ONE (81) Speedway, Park City, KA is relying upon the Cracker-Blade to prepare the track for their busy three race-days weekly schedule.
Track Tech Concepts' Cracker-Blade System meets the moisture management demands of dirt track racing.
---
The Concept!

A: Shatter your dirt tack's race-hardened crust 2" deep, forming dirt chunks, and simultaneously drive cracks (or channels for water) up to 6" deep into the stable sub-base.

B: Apply water like Mother Nature's soaking rain.

C: After watering, avoid re-sealing the surface with the concentrated weight of heavy vehicles.
Current graders shave the existing surface into powder. Water soaks the graded powder but doesn't penetrate the track sub-surface. Cars quickly move the powder airborne and to the track's edge, uncovering the hard sub-surface. Disc blades rut the track without generating any surface consistency. Using a Lely Rotara power rake does stir-up the top inch or so but, it doesn't help moisture enter the sub-base.
The Cracker-Blade creates a traction-enhancing tread-like continuous relief and firm, raised rails (see 12 photos two days after the full schedule) running with the traffic and a uniform combination of nuggets and cracks (fissures) that permits moisture to be maintained in the track's stable sub-base up to 6" deep. All four turns and straight-aways will deliver awesome racing.
Uniform moisture absorption reduces watering demands as well as the on-going maintenance requirements, and the soil is better prepared to receive racing impacts. The surface is enhanced and its integrity is lengthened, assuring speedy, multi-lane conditions for every event.
By design, the Cracker-Blade breaks up the top crust, minimizes powder, and levels the entire surface (without windrows), thus improving the track's long-term integrity.
Event-generated (fine) Dust will be virtually eliminated when Cracker-Blade conditioning is followed with the Dust-Killer Atomized (chemical-free) Water Treatment to the track's top and/or bottom edge between events. This treatment will not reduce the racing lanes. Additionally if needed the entrance road from the pits can be treated if dust is a problem.



please click the picture below for pictures of the Cracker-Blade's results!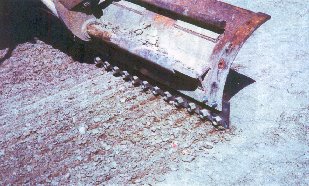 --contact--

Manufacturing Center
Cutting Edge Tech.
105 W. Division Street
P.O. Box 563
Remington, IN 47977

Office
208 Pine Lake Ave. #102
LaPorte, IN 46350
Ph 219.326.9214
Fax 800.487.9213
EMAIL: Paul Nugent

At Last! The Formula for Virtually Dust-Free, Multi-Groove Dirt Racing For Every Event!

STEP 1: Create channels (cracks) for water up to 6" deep into the stable sub-base and shatter the top 2" thick crust forming dirt chunks without the shaved powder produced by standard Grader blades (which results in major dust-generating conditions). Track Tech Concepts' Cracker- Blade mounts on your Grader's mortarboard.


STEP 2: Reduce nugget size for ideal moisture absorption. Track Tech Concepts supplies the how-to instructions free with purchase.


STEP 3: Upgrade your water truck pump, spray-bar, and nozzles. Track Tech Concepts supplies the how-to instructions free with purchase.


STEP 4: Uniformly pack the racing surface in less than half the time with the Packer-Mud-Ball-Buster. Additionally, this is an ideal tool to quickly restore the racing surface after rain showers. Track Tech Concepts supplies the equipment and instructions.


STEP 5: Stabilize event-generated dust with Chemical-Free Atomized Water (if needed). Track Tech Concepts offers the Dust-Killer atomizing water spray equipment sized to quickly accomplish this task between events.


After 6 years in the engineering and development stage (including 2 seasons of trial testing, numerous material and design upgrades), evolving into a tough Mining grade of cast steel Cracker-Blade carrier with 2" long carbide Cracker-Cutter-Prongs on each end, designed to be quickly rotated for twice the life.

The universal Grader mold-board Mounting Plates workmanship and materials are guaranteed for 5 years of service with proper use. The 3+1/2 pound Cracker-Blade cutter's life is a function of the track's composition. We expect abrasive wear life to average 1+1/2 seasons. The worn-down Cracker-Blades can be re-used on the Packer-Mud-Ball-Buster, and thereby significantly reduce the cost.

The Cracker-Blade system is the world's only reliable method of dirt track condition that assures a rut-free, smoother more reliable racing surface, delivering multi-lane (side-by-side) conditions for every event, with up to 95% less track preparation related dust.

Additionally, the Cracker-Blade pays for itself in the first season because it requires only 1/3 to 1/2 the normal surface conditioning time, water, fuel, and equipment wear + tear.